Misi Penyelamatan Do Kwon? Selamat Datang LUNA 2.0
May 20, 2022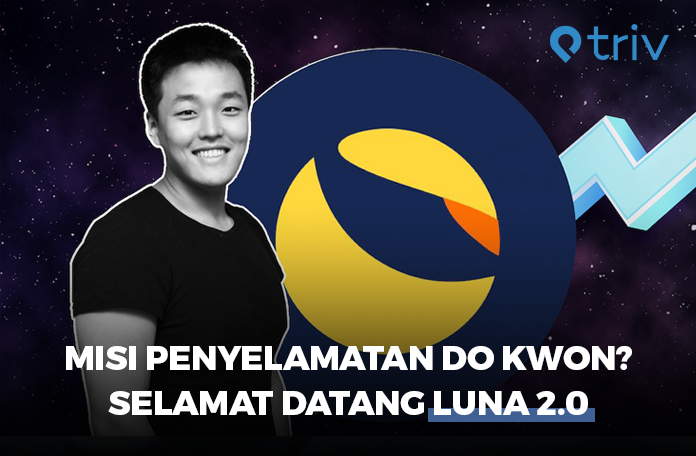 Nampaknya bulan Mei 2022 ini akan menjadi bulan keberuntungan bagi Terra (LUNA). Pasalnya semua penggila kripto terus membicarakan koin yang telah turun drastis hingga ke angka kurang dari 1 rupiah ini. Holder hingga Lunatics pun menjadi jatuh sakit. Sakit secara financial serta secara mental dibuat hancur lebur dalam kurun waktu tidak lebih dari 2×24 jam.
Setelah tragedi 2×24 jam yang merontokkan pondasi Terra (LUNA), kini Do Kwon hadir dengan misi penyelamatan. Misi penyelamatan itupun diungkapan sang pencetus Terra (LUNA) di akun Twitter pribadinya. Sebelum memulai pembahasan misi penyelamatan ini, wajib untuk Trivers mengetahui konsep dari Terra (LUNA) itu sendiri ya.
Terra (LUNA)
Terra merupakan sebuah protokol blockchain yang menggunakan stablecoin untuk menggerakkan sistem pembayaran global yang stabil. Sesuai dengan white paper yang beredar, Terra menggabungkan stabilitas harga & adopsi mata uang dengan ketahanan sensor BTC. Terra juga menawarkan proses transaksi yang cepat & terjangkau. Koin asli dari blockchain Terra adalah LUNA. LUNA digunakan untuk menstabilkan harga stablecoin protokolnya. Jadi, Terra Network ini mempunyai dua anak utama sekaligus, yaitu Terra USD (UST) sebagai stablecoin dan Terra (LUNA) sebagai tokennya.
Terra mulai dikembangkan pada Januari tahun 2018 & melakukan peluncuran mainnet pertama kali pada April 2019. Ditahun 2020 bulan September, Terra kembali azmenawarkan stablecoin & setelah itu Terra bermaksud untuk meluncurkan opsi tambahan. Terra didirikan oleh beberapa orang yaitu Daniel Shin & Do Kwon. Shin & Kwon mendirikan Terra Networks melalui perusahaan pengembang blockchain di Korea Selatan yaitu Terraform Labs. Terra memungkinkan para pengembangnya untuk membangun blockchains & DApps khusus untuk berbagai case penggunaanya. Umumnya yang berfokus pada DeFi (Decentralized Finance), proyek non fungible-token (NFT), serta aplikasi Web 3.0. Mekanisme Algoritma DPoS (Delegated Proof-of-Stake) juga digunakan Terra Network dalam bekerja. DPoS adalah sebuah konsensus pada aset kripto, hal ini memungkinkan pengguna dapat mining aset kripto sesuai dengan jumlah koin yang ada.
Terra mendapatkan dukungan dari Terra Alliance. Terra Alliance yaitu sekelompok pebisnis serta platform yang menyokong pengadopsian Terra. Februari 2019, perusahaan itu membuat sebuah pengumuman besar bahwa platform e-commerce dari 10 negara dengan basis pengguna 45juta. Tak hanya itu, apabila platform tersebut memiliki total transaksi $25 miliar, secara mutlak merupakan anggota aliansi.
Lunatic
Lunatic merupakan komunitas dari penggila maupun supporter Terra (LUNA). Dikenal sebagai salah satu komunitas kripto yang solid & selalu support satu sama lain, itulah Lunatic. 17 Mei 2022 pukul 12.48 WIB, Do Kwon telah membagikan cuitannya yang berisi tentang proposal dengan nama "Terra Ecosystem Revival Plan 2".
Terra Ecosystem Revival Plan 2 ini diklaim menjadi Final Proposal dari Do Kwon untuk Terra (LUNA). Kesimpulan yang bisa diambil adalah Do Kwon berkeinginan membuat jaringan Terra yang baru tanpa algoritma stablecoin. Nantinya jaringan lama akan dinamai Terra Classic (LUNC) & jaringan yang baru dinamai Terra (Luna). LUNA akan didistribusikan ke seluruh staker LUNC , pemegang UST yang tersisa, serta pengembang aplikasi Terra Classic. Kesimpulan lainnya dapat dilihat di "Terra Ecosystem Revival Plan 2" bagian "Summary".
Terra Ecosystem Revival Plan 2
This will be a living document to coordinate the new network launch with the community. Details are subject to change.
This document has been edited in conjunction with input from the Terra Builders Alliance, and has endorsement of both the TBA and TFL.
Motivation
While UST has been the central narrative of Terra's growth story over the last year, the distribution of UST has led to the development of one of the strongest developer ecosystems in crypto.
The Terra ecosystem and its community are worth preserving.
Terra's app ecosystem contains hundreds of developers working on everything from defi to fungible labor markets, state-of-the-art infrastructure and community experience
Terra Station has a large install base, with million+ users across the world
Although distressed, strong brand recognition and a name that almost everyone in the world will have heard about
$UST peg failure is Terra's DAO hack moment – a chance to rise up anew from the ashes.
Summary
Create a new Terra chain without the algorithmic stablecoin. The old chain to be called Terra Classic (token Luna Classic – LUNC), and the new chain to be called Terra (token Luna – LUNA)
Luna to be airdropped across Luna Classic stakers, Luna Classic holders, residual UST holders, and essential app developers of Terra Classic.
TFL's wallet (terra1dp0taj85ruc299rkdvzp4z5pfg6z6swaed74e6) will be removed in the whitelist for the airdrop, making Terra a fully community owned chain
Allocate a large portion of the token distribution in 1) providing emergency runway for existing Terra dapp developers 2) align interest of devs with the long term success of the ecosystem
Network security to be incentivized with token inflation. Target staking rewards of 7% p.a.
Developer Mining Program
There are essential apps that must exist in any web3 ecosystem to be viable:
Infrastructure – Setten
Dex – Astroport, Loop, Terraswap, Pheonix
Explorer – Finder
Payments / onramp – Kado, Alice
Wallet – Station, Leap, Falcon
Lending market – Mars, Edge
Analytics – Coinhall, Flipside
Staking derivative – Stader, Lido, STEAK, PRISM
Launchpad – StarTerra
Bridges – Axelar, Wormhole
Stablecoins – USDT / USDC bridged over
NFT exchange – Randomearth, Knowhere, Oneplanet, Luart, Talis
Insurance – Risk Harbor
Structured products – Nexus, Apollo
Games – UNOPND etc
… and others.
Essential app developers committing to launch on Terra will receive:
Emergency allocation (0.5% of total supply): immediately after network launch to provide for runway while they build out product. Commit to returning funds if product has not been launched in 1 year.
Developer Alignment Program (1.5% of total supply): Protocol teams that were live in Terra Classic divide this allocation weighted by the last 30 day TVL from Pre-attack snapshot – 1 year cliff, 3 year vesting thereafter
Developer Mining Program (8% of total supply): Essential app developers earn a share of the mining program proceeds pro-rata to the amount of TVL every quarter for 4 years.
Essential app developers looking to join for emergency allocation should signal public support for the net network on Twitter and social channels.
Token Distribution
Community pool: 25%

Controlled by staked governance
10% earmarked for developers

Pre-attack LUNA holders: 35%

All bonded / unbonded Luna, minus TFL at "Pre-attack" snapshot; staking derivatives included
For wallets with < 1M Luna: 1 year cliff, 2 year vesting thereafter
For wallets with > 1M Luna: 1 year cliff, 4 year vesting thereafter

Pre-attack aUST holders: 10%

500K whale cap – covers up to 99.7% of all holders but only 26.72% of aUST
15% unlocked at genesis; 85% vested over 2 years thereafter with 6 month cliff

Post-attack LUNA holders: 10%

Staking derivatives included
15% unlocked at genesis; 85% vested over 2 years thereafter with 6 month cliff

Post-attack UST holders: 20%

15% unlocked at genesis; 85% vested over 2 years thereafter with 6 month cliff
Definitions:
"Pre-attack" snapshot to be taken at at Terra Classic block 7544910 (2022.05.07 23:00:04+08:00)
"Post-attack" snapshot to be taken at Terra Classic block 7790000 (2022.05.27 03:59:51+08:00)
All tokens locked or vesting are staked at genesis, and must be unbonded to become liquid.
Technical details
Chain upgrade to commence in a few hours after the Launch snapshot
Snapshots can change depending on development readiness
Vesting all vesting block by block
Terra Core to have the oracle, treasury, market modules removed – no UST
Luna eligibility includes Luna, bonded Luna, unbonding Luna, and staking derivatives
Roles & responsibilities
TFL (previously maintained mantle, station, finder, Terra Core) to prepare core public infrastructure, wallets, genfile, release binary for the launch. Validators (to volunteer) to declare gentx and coordinate launch shortly after the launch snapshot. Community leaders looking to provide oversight over the essential dev program should form a multisig to oversee the essential dev allocation & act as a steering committee for the new chain
Timeline
05/17 – Announcement out
05/18 – Governance proposal out
05/21 – Terra Core release is cut, network launch instructions made available for validators
05/25 – Essential app developer registration completed
05/27 – Genesis file created from final launch snapshot
5/27 ~ Network launch
LUNA 2.0
LUNA Classic & LUNA 2.0 sebenarnya sudah sangat terlihat jelas perbedaannya. Salah satu perbedaannya adalah di stablecoin algoritmik. Jika LUNA Classic masih tergolong stablecoin, lain halnya dengan LUNA 2.0. Dikabarkan LUNA 2.0 akan hadir dengan versi yang berbeda. LUNA 2.0 jika sesuai dengan jadwal proposal yang tersebar, LUNA 2.0 akan dilaunching pada 27 bulan 5. Artinya forking ini akan dilakukan hanya dalam kurun waktu 2 minggu saja.
Bagaimana nih Trivers? Apakah Revival Plan dari Do Kwon ini akan berhasil? Apakah LUNA 2.0 akan bisa mengangkat kejayaan Terra sebelumnya? Kita tunggu ditanggal 27 bulan ini ya Trivers!!
[monica-triv]